Explore India with Datsun redi-GO
Most of us, including me, find driving a real stress breaker. Whenever I am stressed due to work pressure, I go on a long romantic night drive with my husband. It soothes me, it calms me, and it offers me private moments, when I can't escape from facing the never ending pressures of daily life. Going on a long drive with someone that you love or even by yourself, playing your favourite soundtrack and singing along to it, stopping nearing a tea stall for quick cutting chai and letting the city breeze brush your face. It's pure pleasure.
Pic source:- Autocarpro
But, in order to fulfil this pleasure, you need to have a perfect car. Imagine this, what if you get out of your house on a late night to enjoy a romantic drive by the Marine Drive but your car breaks down during the journey or the bumpy road makes things uncomfortable and the romantic getaway mood just vanishes in a minute!
For a perfect drive, it is very necessary to have a perfect car. There is a variety of car options out there to buy from but not all of them deliver the things that you have been looking for. We want the best features within our pocket budget. And hence, here to meet the ever increasing consumer demands, we have an amazing car launching in June 2016.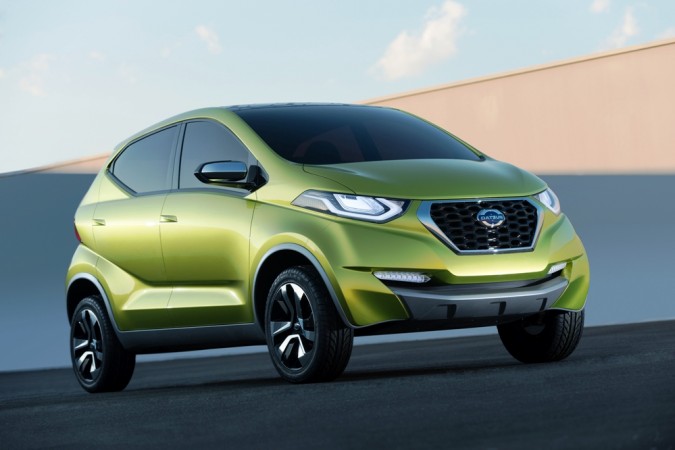 Datsun is here with a brand new model that is all ready and steady waiting for the go signal. Datsun's redi-GO is India's first Urban-Cross car that takes the best features of a crossover and mixes them with the major characteristics of an urban hatchback. It belongs to Nissan's low cost car brand, which delivers the best owner experience at the lowest price. It is the third car from the Japanese automaker (following the previous two GO, GO+) and is said to be the brand's most affordable car yet. This car is said to be the next little wonder.
In this post, I am going to take you on a drive through the three most amazing features that have seemed to have caught my eye. So are you all set to have a look at them?

Ready, Set, Go...
1) Cabin Space, Interiors and Quality:-

Drivers spend a lot of time in the car. If the seats aren't comfortable, you won't be happy with your car for long and will plan to switch to something better. Also, nobody like a car that is cramped and makes you uncomfortable.
Pic source- Financial Express
Datsun's redi-Go has more spacious interiors unlike most of the cars in the market. Apart from this, the seats are also tall. The front seats come with support on the sides, but the fixed headrests are a cost saving measure. Also, getting in and out of the Datsun redi-Go is easy. The thin seats though are quite comfortable with good back support. I belong to a plumpy family and we usually find cars uncomfortable because of less spacing but hopefully this car will be comfortable enough and I would be able to enjoy the ride.

There is USB port also available in the all new Datsun redi-Go. The Datsun redi-Go also comes with an airbag to keep you safe in case of any unfortunate incident. You also get a cup-holder and a large bottle-holder to carry my morning coffee mug. Thanks to the high mounted seats, you can sit and enjoy the beautiful view of the city lights at night or the beautiful roadside greenery during the rainy season. And this is what made me go Woohoo!!!

2) Looks and Design
When it comes to looks, the redi-Go is quite attractive. The makers of this car have spent a lot of effort in order to make this fine piece of art stand out and believe me it does stand out.
Pic Sorce:- Powershifters
The fifty shades of grey depicting modern looking dashboard gives the Datsun's redi-Go's interiors a very classy look. Along with the interiors, the exteriors also have a very elegant look that adds to its charisma. The exterior design is sleek, dynamic and exhilarating. The distinctive 'D-cut' grille, headlamps and rear lamps along with the bright interior and tall body structure gives it a fresh and an eye-catching sports car look.

Plus, a car with such amazing looks will also make your neighbors jealous! LOL!
3) Price and Performance
For any person coming from a middle class family, like me, cost of a product plays an important factor in purchasing anything. And the biggest reason to buy this product will surely be its price. The car is seemed to be priced between Rs. 2.5- 3.5 lakhs.
Pic Source:- review1st.
The makers of this car have really delivered the best at the most affordable price. It is said that this car offers a low speed ride and an amazing performance. Indian roads are filled with potholes.
The redi-Go can also smoothly float through the biggest of potholes and the roughest roads with ease. That's what I want in my car.
The engine has been designed to offer good fuel-efficiency. Gear shifts and clutches are easy to use making it the perfect buy option.
Where would I drive it? What would I test it for?
I would surely love to take this car out for a spin in my hometown Mangalore. With greenery on either side of the road and a beautiful view, driving this car through those lanes with be a memorable and a refreshing experience. All you have to do is, get in your car, plug in some soft instrumental music and get going through the greenery to be one with nature and spend time with your loved one.
Also, I would like to take this car out for a spin and test it for its comfort and the fuel efficiency and also to check how smoothly it floats through the rough roads of India. Also I can't wait to enjoy the romantic view.
I give a green signal for this car and can't wait for it to hit the markets. If you have been waiting to buy the perfect car for your family, this is the one.
Redi-Go for it!
Fun. Freedom. Confidence. The ultimate Urban Cross - Datsun redi-GO - the capability of a crossover with the convenience of a hatchback.