Believe in yourself. Be you.
Being a woman means getting ready to being judged.

Every time an actress does an interview and reporters ask her about her weight / clothing / appearance while they ask her male co-star about his thoughts on character and if he wants to direct some day.
Every time a magazine subjects a woman to dramatic amounts of figure reshaping and "flaw fixing" before her photo can be in the magazine. Every time successful middle aged men kick back and talk to all their friends about 'trading in' for a 'newer model'.
Every time we decide that it's an acceptable business practice to require waitresses to wear short skirts or shorts and low cut / tight tops while men wear pants and shirts. Every time a mother tells her daughter "you'll never get a man looking like that".
Why are women judged more on their appearance?
Because, our society is misogynistic. Because women are taught from the earliest age that they are judged by their appearance and all genders are taught that it's normal and even desirable to judge a woman by her appearance.
Most of the time, the people who judge us are our near and dear ones. This is a story about one of my friend.
Pooja (name changed) was a brilliant and smart girl. She was my neighbour. Her father was a street vegetable vendor and her mother was a house maid. Both were illiterate. They worked hard so that Pooja could become a graduate. Pooja's dressing attire was very simple. She preferred wearing salwars and always tied her hair in a braid.
She topped her class in every exam and she was one of the top three students in her department when she graduated. When Pooja got a call for a job interview in one of the leading multinational companies, she was very much excited. It was for the position of a personal assistant. The pay was good.
She wore a new salwar kammej for her job interview. When she reached there, she cleared all the rounds in the interview. But she was rejected in the final round. Because of her looks. She wore simple attire. She had not put on too much make up or anything. The person who was selected was wearing nice formal skirt and top and had a little make up on.
This incident disheartened Pooja. But she never gave up. She applied in another company where she got selected and was offered even a bigger pay package. Today she is a successful woman. Last year she married a wealthy man. She told me that the old company tried to poach her but she rejected them.
She believed in herself and didn't change for anyone. She stayed who she was. She broke the stereotype.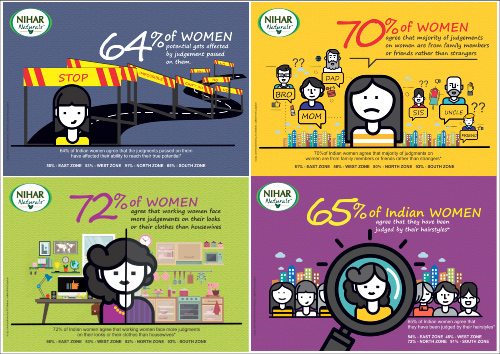 "I'm breaking stereotypes based on appearance by sharing my experience for the
#IAmCapable
activity at
BlogAdda
in association with Nihar Naturals."